PITTSBURGH — Aug. 23, 2022— Black Box, an industry leading global systems integrator and Certified Integrator for Zoom Rooms announced that the company has become a Zoom Phone Certified Integrator, bringing Zoom's video communications platform and its feature-rich cloud phone system to market. With accredited individuals across its engineering, sales and delivery teams, Black Box is equipped to provide value-added services such as design, deployment and management for Zoom Rooms and Zoom Phone globally, helping customers get up and running quickly with these robust communications tools.
"Work is being reimagined. After working remotely and growing accustomed to increasingly sophisticated and intuitive online tools for meetings, communications and collaboration, people have much higher expectations for inclusive work experiences," said Jim McKenna, vice president of strategic partnerships at Black Box. "As a flexible, feature-rich, software-based solution, Zoom is the perfect complement to the digital workplace, enterprise networking and connected building solutions Black Box supplies and integrates into modern workspaces. Backed by Black Box's renowned integration and support services, Zoom eases the transition to hybrid and in-person work while improving the overall communications experience for all participants."
Zoom Rooms and Workspaces solutions are used around the world in board, conference, huddle and training rooms, as well as executive offices and classrooms, to help users work together comfortably and effectively across spaces and devices, in the office environment. The solution supports virtual check-ins with Zoom Workspace Reservation; room status and scheduling displays content sharing through Zoom Digital Signage; and Zoom Rooms meeting management through personal mobile device or voice-activated controls. Zoom Phone enables users to make secure voice calls across the globe using a variety of supported devices with the same ease and familiarity as participating in Zoom video meetings.
"Black Box is a services-led business with a rich heritage of providing advanced connectivity solutions to address critical workplace and workflow requirements," said Gilbert Vendryes, head of partner programs at Zoom. "As a Zoom Certified Integrator for Zoom Rooms and Zoom Phone, Black Box has the knowledge and resources to assist customers globally as they build these robust tools into today's hybrid workspaces."
Further information about Black Box and its full product portfolio is available at www.blackbox.com.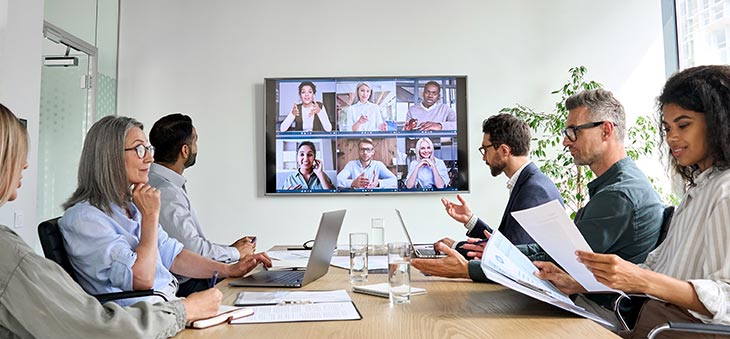 # # #
Black Box® is a trusted IT solutions provider delivering cutting-edge technology solutions and world-class consulting services to businesses across the globe. The breadth of our global reach, continuous innovation, and depth of our expertise accelerates customer success by bringing people, ideas and technology together to solve real-world business problems. Our IT infrastructure solutions, services and products enable secure, flawless connectivity and meaningful collaboration for businesses in every major market across six continents.
To learn more, visit the Black Box website at www.blackbox.com. Follow the company on Twitter @BlackBox_ns. Black Box® and the Double Diamond logo are registered trademarks of BB Technologies, Inc.
All other trademarks referenced herein are the property of their respective owners.
Link to Word Doc: www.wallstcom.com/BlackBox/220823-Black_Box-Zoom_Phone_Integrator.docx
Black Box Contact:
Melissa Bradley
Marketing Communications Manager
Phone: + 724 873 7013
Email: melissa.bradley@blackbox.com
Agency Contact
Carolyn Archambault
Wall Street Communications
Phone: +1 801 266 0077
Email: carolyn@wallstcom.com