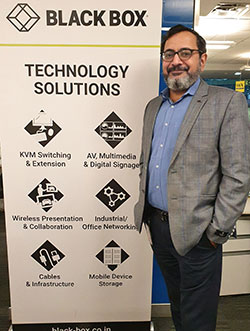 Mr. Sanjeev Chhabra, MD & CEO at Beetel
PITTSBURGH, Pa. — Dec. 7, 2020 — Black Box, an industry-leading provider of IT connectivity solutions, today announced that Beetel Teletech Limited will serve as a value added distributor of Black Box products to customers across India. Beetel will offer the full Black Box product portfolio, with a focus on the company's KVM (keyboard, video, and mouse) and pro AV solutions.
"I am very excited to have Beetel on board and welcome the company to the Black Box partner network," said Gerardo Grasa, channel sales director for Black Box EMEA and India. "With Beetel, we are expanding the Black Box presence in India with a reliable partner eager to expand its daily and project business with our KVM, AV, and network infrastructure product portfolio. The sales, technical, and logistics capabilities of Beetel enable us to offer Black Box customers all the additional benefits of a local value added distributor in India."
The Black Box KVM product line, including the award-winning Emerald® unified KVM platform, features switching and extension solutions that provide users with secure, reliable remote access to devices such as computers, digital signage players, virtual servers and more. AV, multimedia, and digital signage solutions from Black Box provide the technology users need to set up high-performance AV distribution and digital signage systems.
"The addition of Black Box products to our portfolio gives us even greater flexibility in offering best-in-class solutions," said Sanjeev Chhabra, MD and CEO at Beetel. "We look forward to working with Black Box to increase adoption of the company's KVM and pro AV solutions across India and across a variety of industries and applications."
Further details on Black Box and its full product portfolio are available at www.black-box.co.in.
# # #
About Black Box
Black Box has been a world-leading provider of premier IT infrastructure solutions for more than 40 years. Today, the company continues to design and manufacture award-winning pro AV, KVM, cabling and networking products known for their advanced functionality, flawless performance, outstanding reliability and fail-safe security. Black Box solutions are used every day in government, education, commercial enterprises and any other organization that requires the utmost quality and performance from its IT infrastructure.
In addition to creating industry-leading products, Black Box demonstrates every day a complete commitment to providing its customers with the industry's best technical support and service. The award-winning dedicated support staff at Black Box works around the clock to ensure that customers' systems are always up and running optimally. The world-class support and service provided by Black Box is as important to the successful IT, communications and business operations of customers as the powerful products and solutions the company delivers.
Black Box TPS and GSI businesses are part of AGC Networks Limited. To learn more, visit the Black Box website at www.black-box.co.in. Follow the company on Twitter @BlackBox_ns. Black Box® and the Double Diamond logo are registered trademarks of BB Technologies Inc.
About Beetel
Beetel is a leading technology brand offering contemporary solutions for modern India's connectivity and IT needs. Established in 1982, Beetel is one of the oldest and reputed brand names in the industry, a pioneer in the landline phone category. With its manufacturing unit in Ludhiana - Punjab, Beetel is focused on manufacturing as well as distributing a huge range of products in the form of mobile devices, mobile accessories, IT peripherals, enterprise solutions, as well as fixed landlines. Beetel distributes a host of iconic brands like Avaya, Polycom, Samsung, QSC, RADWIN, Ruckus, RAD, and Actelis. Beetel is known for its innovative product solutions and latest in technology, which are offered to customers at the most prudent prices. In India, Beetel is spread via 10,000 retailers, 500 distributors, as well as 10 warehouses. The company has manufactured over 100 million landline phones to date.
Black Box Media Contact
Geert Vanmeerbeek
EMEA Marketing Communications Manager
Phone: +49 (0)152 56870969
Email: geert.vanmeerbeek@blackbox.com
Agency Contact
Carolyn Archambault
Wall Street Communications
Phone: +1 801 266 0077
Email: carolyn@wallstcom.com