Navigation
Platinum partnership

AVB-switching for AV-professionals
ExtremeXOS® supports IEEE Audio Video Bridging (AVB) standards to enable reliable real-time audio and video transmissions over Ethernet, for high-definition and time-sensitive multimedia streams with assigned Quality of Service (QoS). ExtremeXOS leverages AVB to identify and reserve network resources for A/V traffic streams and supports synchronous streaming capabilities to ensure reliable and high-quality A/V transmissions over Ethernet. AVB also enables time sensitive multimedia streams to be sent over the Ethernet network with low latency and provides service quality for high definition information and entertainment applications.
Extreme Networks Solutions for AVB
Extreme Networks AVB-enabled Ethernet switches unify data, audio, and video traffic on a single standards-based network for professional audio-video applications.

IT managers and AV integrators alike benefit from Extreme Networks powerful management capabilities, simplified deployments, network convergence for all media, and standards based designs for simplified integration.

With Extreme Networks switches, professional AV installations that previously required extensive time and resources to connect proprietary or non-interoperable network elements now benefit from simplified infrastructures, reduced implementation costs, unified management, and the ability to provide delivery of next generation video and audio applications.

Delivering enterprise-class capacity, scale, and reliability, Extreme Networks switches simplify complexity and connectivity across a variety of environments, including auditoriums, conference rooms, public spaces, amusement parks, stadiums, studios, telepresence rooms and more..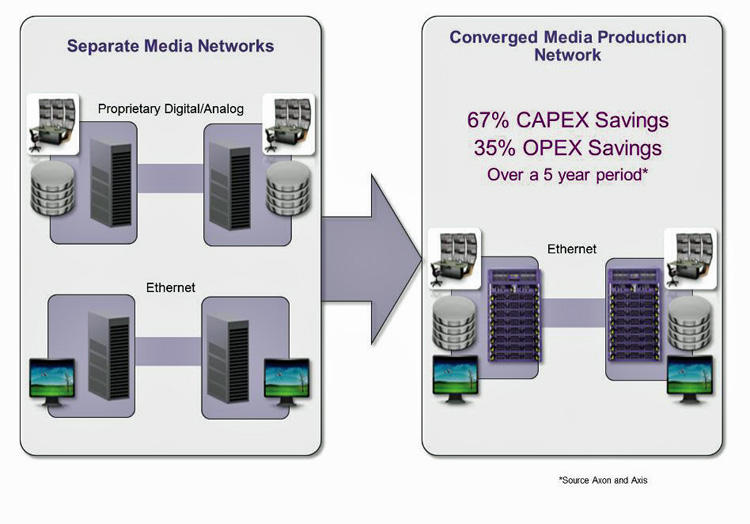 About Extreme Networks
Extreme Networks delivers high-performance open switching and routing products for data center and core-to-edge networks, wired/wireless LAN access, and unified network management and control. Our award-winning solutions include software-defined networking (SDN), cloud and high-density Wi-Fi, BYOD and enterprise mobility, identity access management and security. Extreme Networks is headquartered in San Jose, CA and has more than 12,000 customers in over 80 countries.
Lisätietoa
Haluatko keskustella juuri sinulle sopivista vaihtoehdoista? Ota yhteyttä!