USB Connectivity: USB 3.2 and Beyond

The Evolution of USB Standards
---
In the year 1995, the Universal Serial Bus (USB) interface standard was introduced to the marketplace. Before USB, connecting anything to a computer required a bunch of cables and various ports. A mouse, keyboard, printer, scanner, or gamepad each needed different connectors.
People born near the end of the millennials' generation may only know this type of interface. And Generation Z, following millennials, has grown up with the internet and social media. When the global pandemic hit in 2020, some of Gen Z-ers were old enough to enter the workforce. While many of these Gen-Z-ers ended up working from home, they still needed to use the latest technology, including USB.
Universal Serial Bus (USB) technology is built into smartphone chargers, flash drives, printers, and computers. The USB Implementers Forum (USB-IF) maintains USB specifications and compliance for connectors and interfaces.
So, how did USB connections evolve over the years?
USB 1.0, introduced in 1995, has a transfer rate of 1.5 Mbps. USB 1.1 has a transfer rate of 12 Mbps. USB 2.0, introduced in 2000, has a transfer rate of 480 Megabits per second (Mbps). USB 3.0, released in 2008, has a transfer rate of more than 10 times that of USB 2.0, supporting 5 Gigabits per second (Gbps). USB 3.1, released in 2013, offers speeds up to 10 Gbps. USB 3.2, circa 2017, reaches speeds of 20 Gbps. USB 4.0 is defined to support 40 Gbps. These transfer rates allow quicker uploads of data.
USB Standards Timeline

USB 1.0 primarily was used to operate mice, keyboards, and gamepads. USB 2.0 is plug-and-play and is commonly used in flash drives. USB 2.0 is also backward-compatible with USB 1.0 and 1.1 interfaces. USB 3.0, which manifests on a pin-dense Type C connector, uploads and downloads data at the same time.
While USB 1.0 and 1.1 use USB Type A or B connectors, all USB 3.2 Gen 2x2 products use the Type C connector. However, not all USB C ports are USB 3.2 Gen 2x2. Identifying which USB interface you have can be confusing. See the table below to differentiate between the available options.
USB Standards Specifications
| USB version | Old Name | Connector Type | Max. Speed | Charging Power | Paths |
| --- | --- | --- | --- | --- | --- |
| USB 1.0 | N/A | Type A or B | 1.5 Mbps | N/A | N/A |
| USB 1.1 | N/A | Type A or B | 12 Mbps | N/A | N/A |
| USB 2.0 | N/A | Type A or B | 480 Mbps | 2.5 W | one-way |
| USB 3.0 | N/A | Type A or B | 5Gbps | 4.5 W | two-way |
| USB 3.2 Gen1 | USB 3.2 Gen1 | Type A or B | 5Gbps | 100 W | two-way |
| USB 3.2 Gen2 | USB 3.2 Gen2 | Type C | 10Gbps | 100 W | two-way |
| USB 3.2 Gen 2x2 | N/A | Type C | 20Gbps | 100 W | four-way |
| USB 4.0 | N/A | Type C | 40Gbps | 240 W | eight-way |
USB Connectors Illustrated
USB 3.2 and 4.0
The USB Implementers Forum (USB-IF) introduced USB 4.0, the fourth comprehensive revision of Universal Serial Bus (USB). USB 4.0, as well as USB 3.2 Gen 2 and USB 3.2 Gen 2x2, use a connector and receptacle called USB Type C.
What is USB Type C?
---
USB Type C Features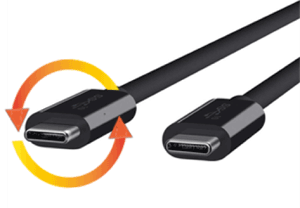 USB Type C is a reversible connector capable of supporting data rates up to 40 Gbps. This breaks down to 10 Gbps per lane, with 4 lanes total.
USB Type C's connector and receptacle are smaller-sized (comparable to Micro-USB) and more durable, withstanding 10,000 insertions/removal cycles. With symmetrical 24 pins, the connector will attach to the receptacle on the first try. Type C offers these benefits:
Up to 100 W of power delivery
USB 2.0, 3.1 Gen 1, 3.2 Gen 2, 3.2 Gen 1, 3.2 Gen 2, and 4.0 capable
Support for alternate modes, to allow for more than just USB data to be sent across the connector and cable assembly
Standards-driven from computer and mobile phone manufacturers who needed a smaller, better interface for USB
Cables are electronically marked to allow for power delivery negotiation (This is done for safety reasons, to prevent too much power from going across a cable that cannot support it, although we have seen some bad exceptions get into the market causing damage)
No more dumb cables!
USB-C ports may be providers or consumers of power
The same port used to connect your flash drive could also be used to charge your laptop
The power delivery mode charges smartphones and tablets much faster
Cables and connectors will also have varying capabilities (e.g. - a port or cable may only support USB 2.0, and no power delivery)
Identification of capabilities becomes important!
USB Type C Alternate Modes
---
USB alternate modes include DisplayPort, MHL (Mobil High-Definition Link), Thunderbolt 3, and HDMI, all described below.
DisplayPort Alternate Mode
Supports up to 4Kp60 4:4:4 with DisplayPort 1.3 Spec
Simultaneously supports USB 3.1 Gen 2 and USB 2.0
Transfers power up to 100 W
MHL (Mobil High-Definition Link) Alternate Modes
Supports up to 4K 60 Hz with a single lane of data, or 8K 60 Hz with 4 lanes with super MHL 1.0 specification
Handles USB 2.0, 3.1, depending on configuration
Enables power delivery up to 100 W
Thunderbolt 3 Alternate Mode
Support for up to 2 displays running 4K 60 Hz
Connects PCIe 3.0, DisplayPort, and USB 2.0 and 3.1 protocols, depending on configuration
Delivers power up to 100 W
Laptops from Dell, Lenovo, Apple, and HP have USB-C connectors that support this alternate mode
HDMI Alternate Mode
Supports HDMI 1.4b spec (4Kp30, 4Kp60 4:2:0)
Cannot support simultaneous USB 3.1 data in any configuration (limited to USB 2.0)
Delivers power up to 100 W
USB Type C Market Trends
---
The Universal Serial Bus (USB) type C market size is valued at USD 4,263.56 million and is expected to grow at a compound annual growth rate of 27.35% in the forecast period of 2021 to 2028.1
Common USB C devices include mobile phones and laptops, adapters to legacy connections (USB A/B, DVI, etc.), flash drives, docking stations, and monitors.
What is USB 3.2 Technology
---
USB 3.2 Gen 1 (Formally USB 3.1 Gen 1)
USB 3.2 Gen 1 offers 5 Gbps bandwidth, 100 W power available to the downstream device, full-duplex operation, and is supported as standard with latest macOS, Linux, and Windows Operating systems.
USB 3.2 exists as a completely separate bus from USB 2.0. USB 3.2 data and USB 2.0 data are completely separate, running on different conductors in the connector and cable.
USB 3.2 Gen 2 (Formally USB 3.1 Gen 2)
USB 3.2 Gen 2 supports 20 Gbps bandwidth, drives 100 W of power to the downstream device, and operates typically through third-party drivers and controllers. Gen2 also has other minor protocol changes over USB 3.2 Gen 1, but maintains backwards compatibility.
USB 3.2 Applications
USB 3.2 is ideal for mass storage devices, such as hard drives, Blu-Ray drives, and flash drives. It offers an increase in performance over USB 3.0. This is important because consumers are demanding faster devices to compensate for larger video and picture file sizes.
For video conferencing, USB 3.2 PTZ cameras are capable of 1080p60 and beyond without the use of a hardware codec, decreasing the overall cost of implementation and allowing users to bring their own devices to connect to Skype, WebEx, etc.
USB Machine vision cameras provide cost-effective solutions capable of high resolution and frame rates for product analysis on assembly lines.
USB 4 Applications
USB 4, which is based on the Thunderbolt protocol that Intel made freely available to the USB Promoter Group, enables USB 4 to match Thunderbolt 3 speeds of 40 Gbps, two times the speed of the previous USB 3.2 Gen 2x2 standard. Transfer 4K movies and graphics in seconds. Use USB 4 to connect multiple monitors and external video displays. Link two 4K 60 Hz monitors or one 5K display to your PC. The USB 4 interface delivers 100 W of power.
USB 4 is backward compatible with USB 3.2 and devices going back to USB 2.0, but you will need an adapter to plug the USB 4 cable's Type C connector into older USB Type A ports.
Is the USB 4 Standard Worth its Salt? You Decide.
Both USB 4 and Thunderbolt standards power dual 4K displays, send data at 40 Gbps, and provide power to charge a laptop. USB 4 has lower minimum specifications, and manufacturers can choose not to implement all the features to minimize costs. In practice, Thunderbolt may be more reliable thanks to its higher specifications requirements.
Back to the Future
---
The USB standard has evolved from its inception in 1995. Today, USB C is the standard connector. Several newer standards now exist, the most recent are USB 3.2 Gen2 and USB 4.0. These USB C connectors/interfaces offer high speeds and connectivity for modern USB devices, such as mobile phones, laptops, tablets, printers, scanners, flash drives, and other commonly-used equipment. In the future, USB C is expected to continue to be the connector/interface of choice around the globe for common USB equipment, because of its versatility, compact size, and universal connectivity.
References
---
1https://www.databridgemarketresearch.com/reports/global-universal-serial-bus-usb-type-c-market