Differences between line drivers, baseband modems, and modems.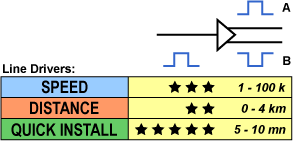 Line drivers - offer the simplest and cheapest method of increasing the distance between two devices. The simplest line drivers convert digital pulses from a single signal into a differential signal. This signal offers a number of advantages. Line drivers are suitable for use over 2- or 4-wire direct cabling (privately owned lines).
Distance can be as far as 4 km since the receive circuitry can detect minute differences between the A and B wires. Interference effects A and B wires equally, meaning the difference stays the same and the data is uncorrupted.

Modems -use an analogue wave signal to carry data over the phone lines (modulation/demodulation). The speed is limited by the bandwidth offered by the public switched telephone network (PSTN), which was originally designed purely for speech. However, distance is unlimited because the modem signal is amplified as it travels through the network. PC modems only operate on PSTN whereas data-centre modems can be used for permanent connections (leased lines).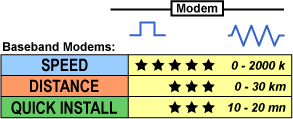 Baseband modems -offer greater distances than line drivers but are more complex and therefore expensive. A baseband modem uses digital signalling technologies instead (FSK, 2B1Q, HDB3, HDSL, etc.). This enables extra distance for dedicated connections.